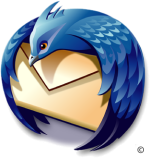 Mozilla Thunderbird is an email client with SMTP, POP3, IMAP4, NNTP and RSS support. It comes with advanced message filtering, Bayesian spam detector and built-in spell checker.
Thunderbird Portable is a special build of Mozilla Thunderbird that is optimized for use on a USB key drive. It has some specially-selected optimizations to make it perform faster and extend the life of your USB key as well as a specialized launcher that will allow most of your favorite extensions to work as you switch computers.
You might also want to take a look at
Mobility Email
, which is another portable distribution for Mozilla Thunderbird with Enigmail OpenPGP baked in.
Download Link:
www.mozilla.com
,
Portable Version